Our Stories
Karl '88 & Kerry '88 Anderson
---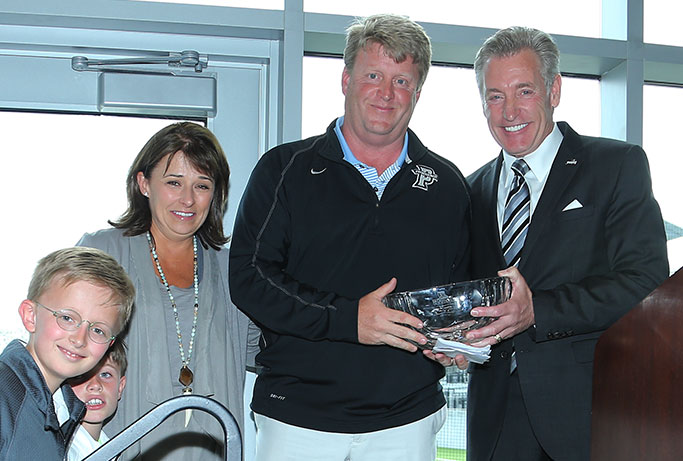 Board of Trustees member Karl Anderson '88 and his wife, Kerry '88 made a $2 million gift to support the recent construction of a state-of-the-art soccer and lacrosse complex. This gift enabled Providence College to further beautify the campus and enhance the experience of student-athletes and the fans of Friar Athletics who will attend games at the new complex. The new soccer and lacrosse complex was dedicated and named in honor of the Anderson family on April 23, 2016.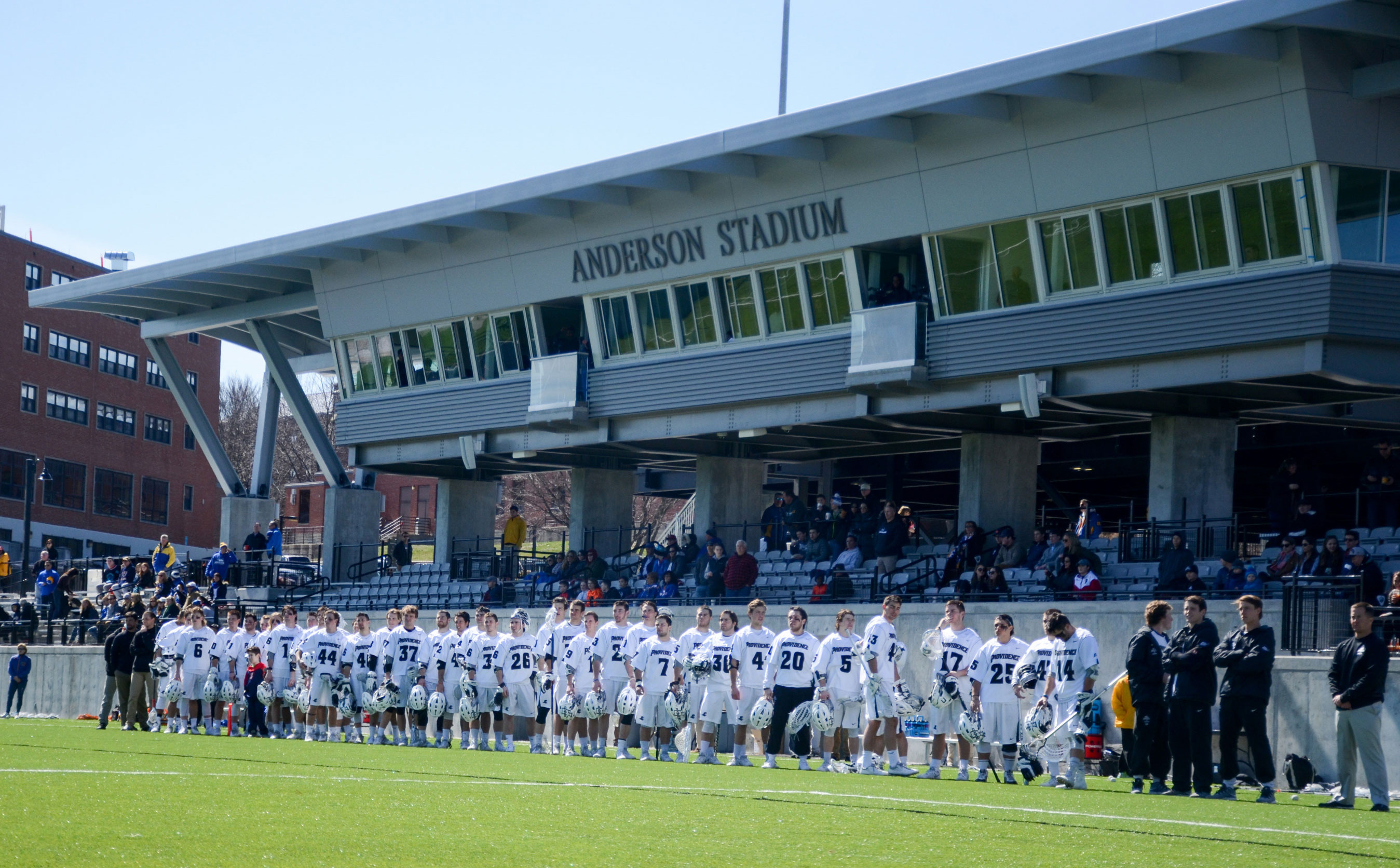 Anderson Stadium seats more than 2,500 fans for a soccer or lacrosse game. The field in Anderson Stadium has been named in honor of the Chapey family. Mike Chapey '86 and his wife, Maura '86, generously donated $1 million to the project in the fall of 2013.
Karl and Kerry met each other as undergraduates at Providence College and have been loyal supporters of the College and Friar Athletics for many years. Karl is a former men's soccer player who experienced success as a student-athlete. He currently ranks fifth all-time in goals scored for his career as a Friar.
"Kerry and I are very excited to be part of this project," Karl Anderson said. "It was a unique opportunity to demonstrate how thankful we are to all those at PC that helped transform our lives. Soccer was a very big part of my college experience and this gift allows us to play a small part in the future of PC's men and women's soccer teams as well as our up-and-coming lacrosse program. We would like to thank Mike '86 and Maura '86 Chapey and their family for their commitment to this project as well. We hope that our collective efforts motivate others to find ways to give back to Providence College."
Lynn Souza '97
---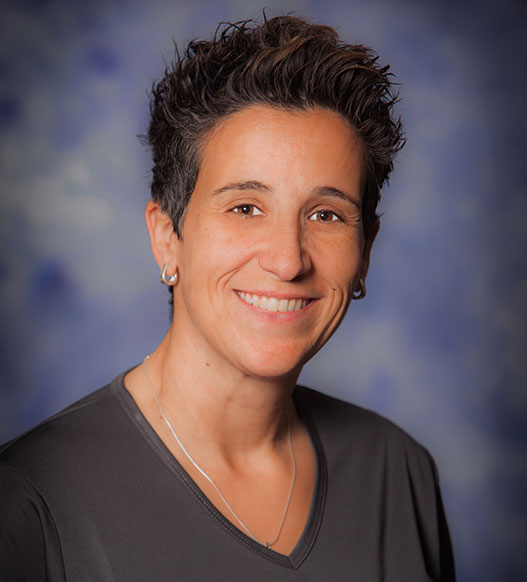 Former Friar Lynn Souza '97 pledged a leadership gift to the softball program in the Fall of 2015. Souza earned a Bachelor of Arts degree in general studies from Providence College and was a four-year member of the softball program. Souza is president and owner of Connect Computer, an IT Solutions and Managed Services Provider headquartered in Fairfield, Conn.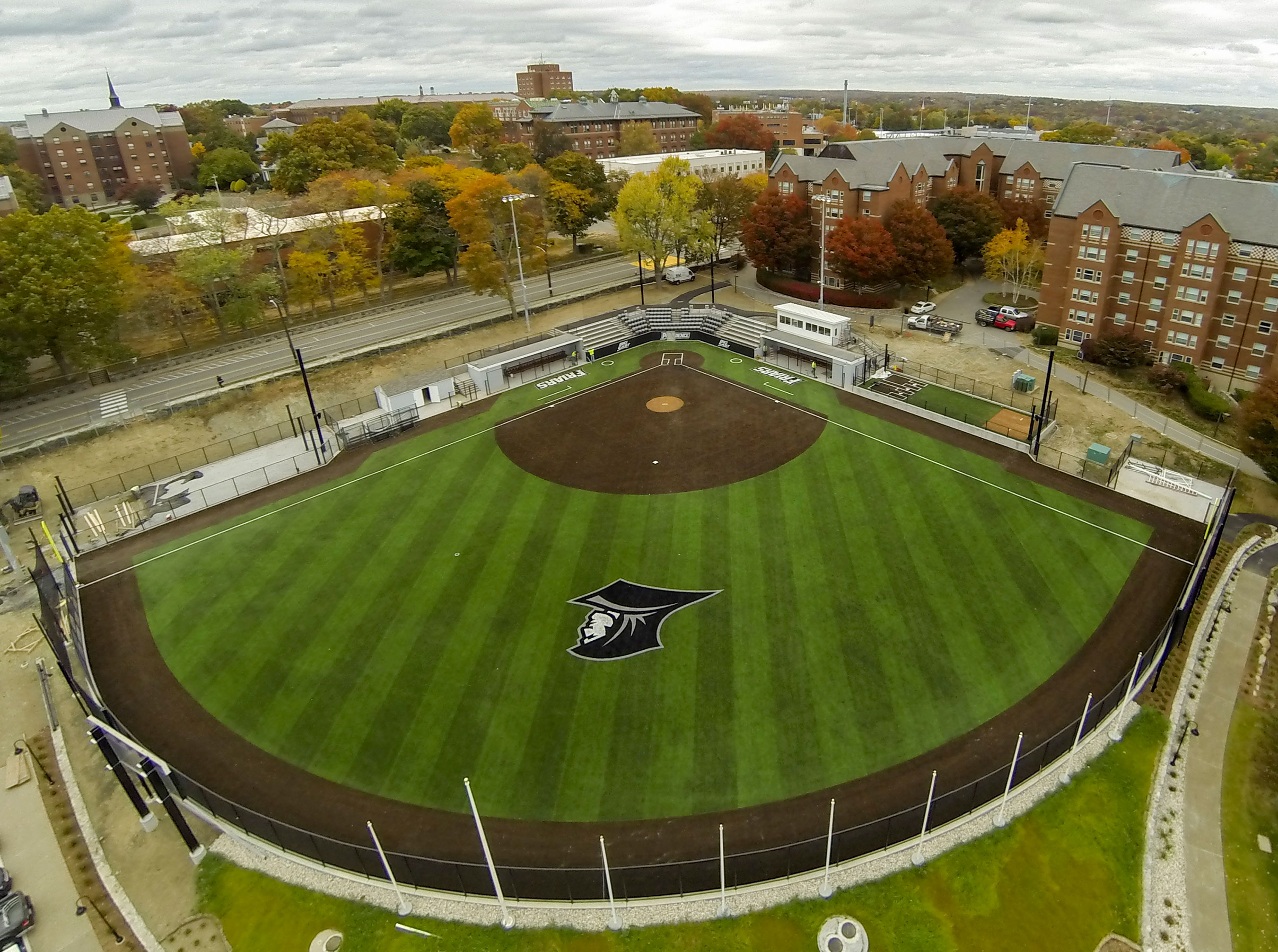 Souza's gift will directly benefit the softball team and its student-athletes. On April 16, 2016, Providence College Athletics officially dedicated Glay Field, the new state-of-the-art stadium and home to the softball program.
The field features a state-of-the-art synthetic playing surface, clay pitcher's mound, lighting, stadium-style seating for 300+ spectators, including 115 chair-back seats behind home plate, heated press box, heated dugouts and bathroom facilities, double-mound bull pen and batting cage, enhanced media/film capability, game info and player development software and a storage facility for team/player equipment.
During her career with the Friars, Souza played 111 games and appeared in the starting line-up 97 times at third base. Souza recorded an impressive .929 fielding percentage for Providence, having registered 61 putouts and 187 assists in 267 chances in the field. At the plate, she collected 45 hits and 15 RBI.
"I couldn't be more excited for the PC Softball program," Souza said. "The College and the athletic department are casting a big vote of confidence in Coach Jacklets, her staff and the entire softball team by building this stadium. It is so well deserved! It's my pleasure to be able to echo that confidence in my leadership gift to support the team and help get PC Softball back on their way to another BIG EAST Championship."
Nate Leaman
---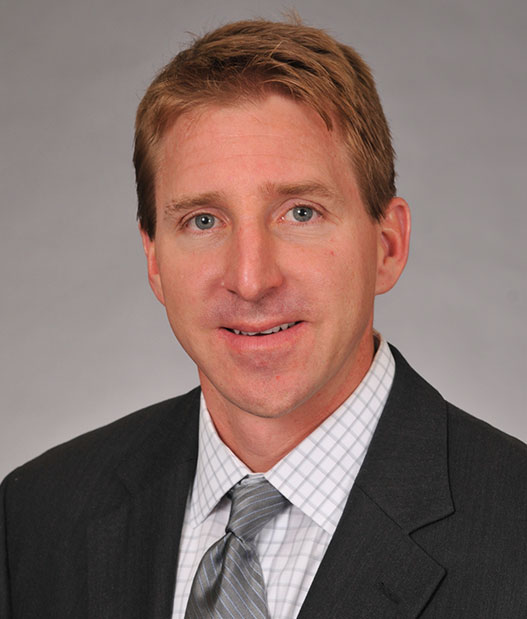 Entering his sixth season at the helm in 2016-17, Head Coach Nate Leaman has led a resurgence of the Providence College men's hockey program, highlighted by winning the 2015 NCAA Championship, marking the first NCAA title in program history.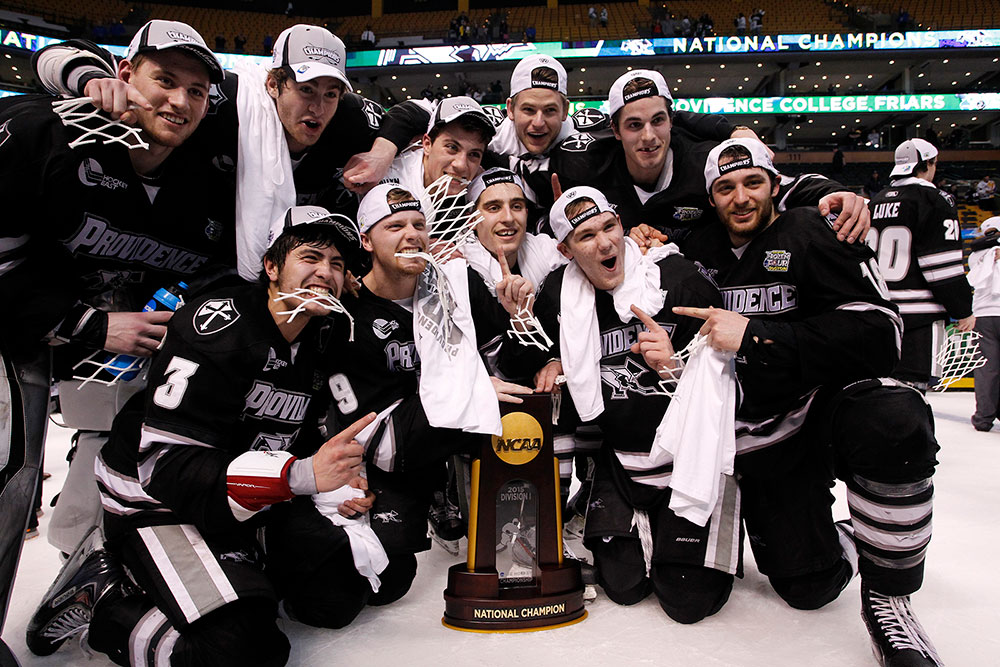 The Friars boasted the second-most wins in program history in 2015-16 (27) and earned their third-consecutive trip to the NCAA Tournament.  Overall, the Friars finished the season with a 27-7-4 record, including a program-best 16-3-3 Hockey East record which netted the team its first share of the Hockey East regular season title. Paced by Mark Jankowski's 40 points, the first time a Friar has hit the 40-point mark since 2002-03, Leaman's squad raced out to an undefeated first half of the season (12-0-3) and ran its unbeaten streak to 19-games dating back to 2014-15.  The Friars were the first team since Colorado College in 1995-96 to be unbeaten entering the Christmas break and also secured the best start to a season by a reigning NCAA hockey champion.
Leaman became the fastest Friar Head Coach to reach 100 career wins and holds a 106-65-23 record (.606) with the Friars.  For his efforts, he was named Hockey East Coach of the Year and a Spencer Penrose finalist for National Coach of the Year.
The Friars advanced to the Hockey East Championship semifinals at the TD Garden for the fourth time in Leaman's first five seasons and holds a 5-2-0 record in seven NCAA Tournament games with Providence.
Leaman has coached 117 All-Conference Academic selections, 28 NHL Draft picks, 19 All-Conference selections, eight All-Conference Rookie Team honorees, nine All-Americans, three ECAC Student-Athletes of the Year, two CoSIDA/ESPN The Magazine Academic All-District Honorees and one Hobey Baker finalist.
Eight members from the 2015-16 squad ended up signing entry level contracts or amateur try-out agreements with professional teams: Tom Parisi (Montreal – NHL), Mark Jankowski (Calgary – NHL), Brandon Tanev (Winnipeg – NHL), Nick Ellis (Edmonton – NHL), Kevin Rooney (Albany – AHL), Trevor Mingoia (Albany – AHL), Nick Saracino (Iowa – AHL), and Steve McParland (Elmira – ECHL).  Tanev appeared in the final three regular season games with the Jets.
Leaman is a 1997 graduate of SUNY Cortland, where he earned a Bachelor of Science degree in biological sciences with a concentration in environmental science and received the Aldo Leopold Award for excellence in environmental science. Captain of the hockey team as a junior and senior, Leaman finished his career as one of the top-20 scorers in Red Dragons' history. He was inducted into the Red Dragons' Hall of Fame in September, 2014. A native of Centerville, Ohio, Leaman and his wife, Alice, have three young sons, Ty, Bryce and Nolan.
Ray Treacy '82
---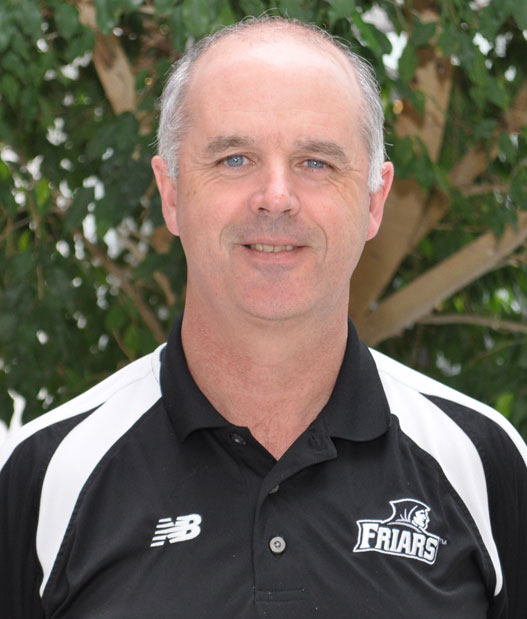 One of the nation's most successful coaches, Ray Treacy embarks on his 32nd season as Director of Cross Country and Track at Providence College. In his 31 years at Providence, Treacy has coached 63 All-Americans, who have received a total of 174 All-America accolades, seven NCAA individual champions, who have captured 15 NCAA titles overall, 44 BIG EAST individual champions, who have captured 116 BIG EAST titles, and 11 Olympians. In addition, his women's teams have captured two NCAA Cross Country Championships (1995 and 2013), 13 NCAA Northeast Regional Cross Country Championships, 21 BIG EAST Cross Country titles and 20 New England Championships.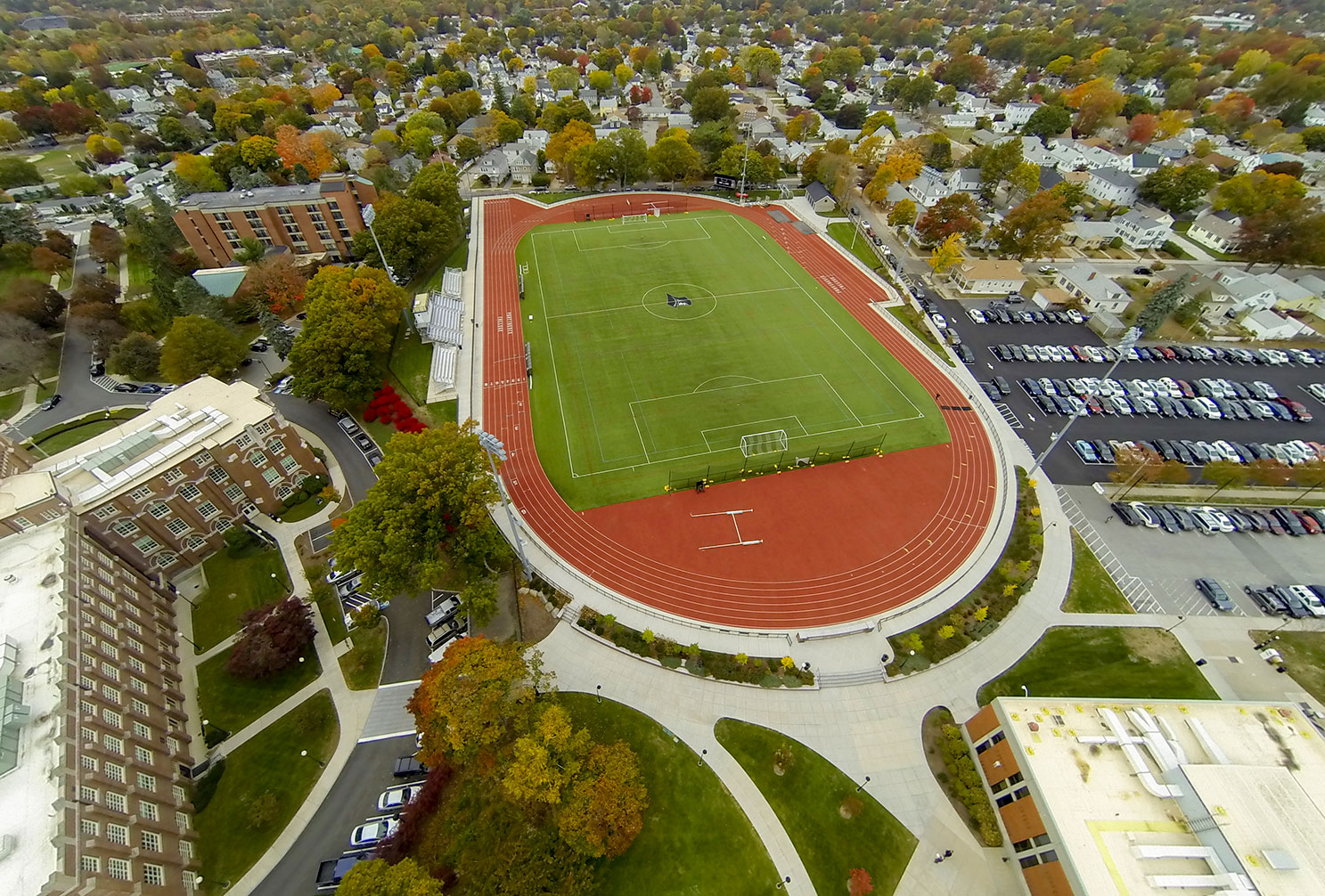 Treacy's road to success began when he was a student-athlete at Providence College. The brother of 1984 Olympic silver medalist, John Treacy `78, Ray's collegiate list of accomplishments and accolades is lengthy. He was the Friar team captain during his junior and senior seasons and collected All-America honors on three occasions. He was a two-time New England Cross Country Champion and won the indoor 5,000 meters at the BIG EAST Championships three times. The talented distance runner also was the IC4A Champion in the 10,000 and 5,000 meters during the 1981 and 1982 seasons, respectively.
A 1982 graduate of the College, Treacy is committed to the success of PC's cross country and track programs. Since he took over as head coach in 1984, Treacy's knowledge of conditioning and training has moved the Providence's cross country and track programs into national prominence. Both the men's and women's cross country programs have advanced to NCAA Championships in 18 of the last 20 seasons, while the women's team has landed a record 25 out of 26 seasons.
Highlights among those 25 women's cross country seasons include the 1990, 1995, 2003, 2004, 2012 and 2013 women's cross country squads. These six teams each finished among the top-three teams in the country at the NCAA Cross Country Championships. The 1990 cross country team placed second with three runners in the top 20 earning All-America honors. Along with the team's 1995 and 2013 NCAA titles, the 1990 squad's second-place finish is one of the top accomplishments of the program along with the 2012 team's second-place finish.
The 1995 team captured the programs first NCAA title. On the road to the title, the squad won its first BIG EAST and ECAC Championships. In recognition of his efforts, Treacy was named NCAA Division I Women's National Coach of the Year, BIG EAST Men's and Women's Coach of the Year, Rhode Island Words Unlimited Women's Coach of the Year and NCAA District I Women's Cross Country Coach of the Year.
The most recent of Treacy's team successes was the 2013 women's cross country team capturing the program's second NCAA title. Three Friars, Emily Sisson '14, Laura Nagel '14 and Sarah Mary Collins '16, finished with All-America accolades to help the team secure the win. Leading up to the Championship, the team also won the BIG EAST and NCAA Northeast Regional titles. For his efforts, Treacy was named the USFTCCCA National Coach of the Year, the Northeast Women's Cross Country Coach of the Year and the Rhode Island Words Unlimited Coach of the Year. A former Irish national junior champion and a past member of the Irish National Cross Country Team, Treacy currently resides in Warwick, R.I. with his wife, Lisa. They have two sons, Michael and Liam.
Diane Madl
---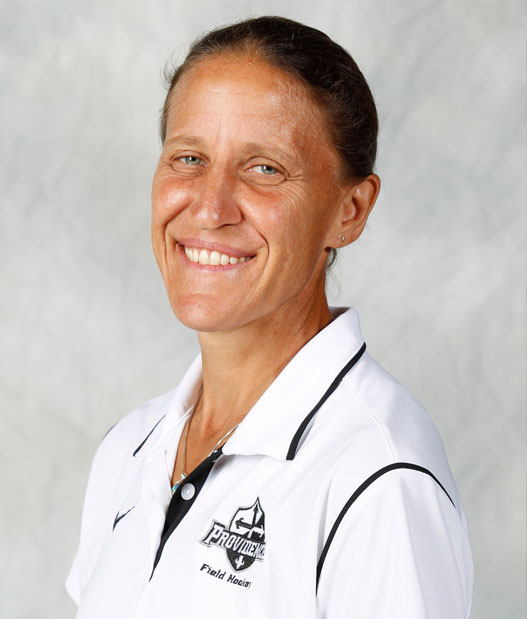 Diane Madl became the field hockey programs' sixth head coach on February 4, 2002 and will embark on her 15th season with the Friars in 2016. Madl and her staff have enjoyed some of the most successful seasons in program history.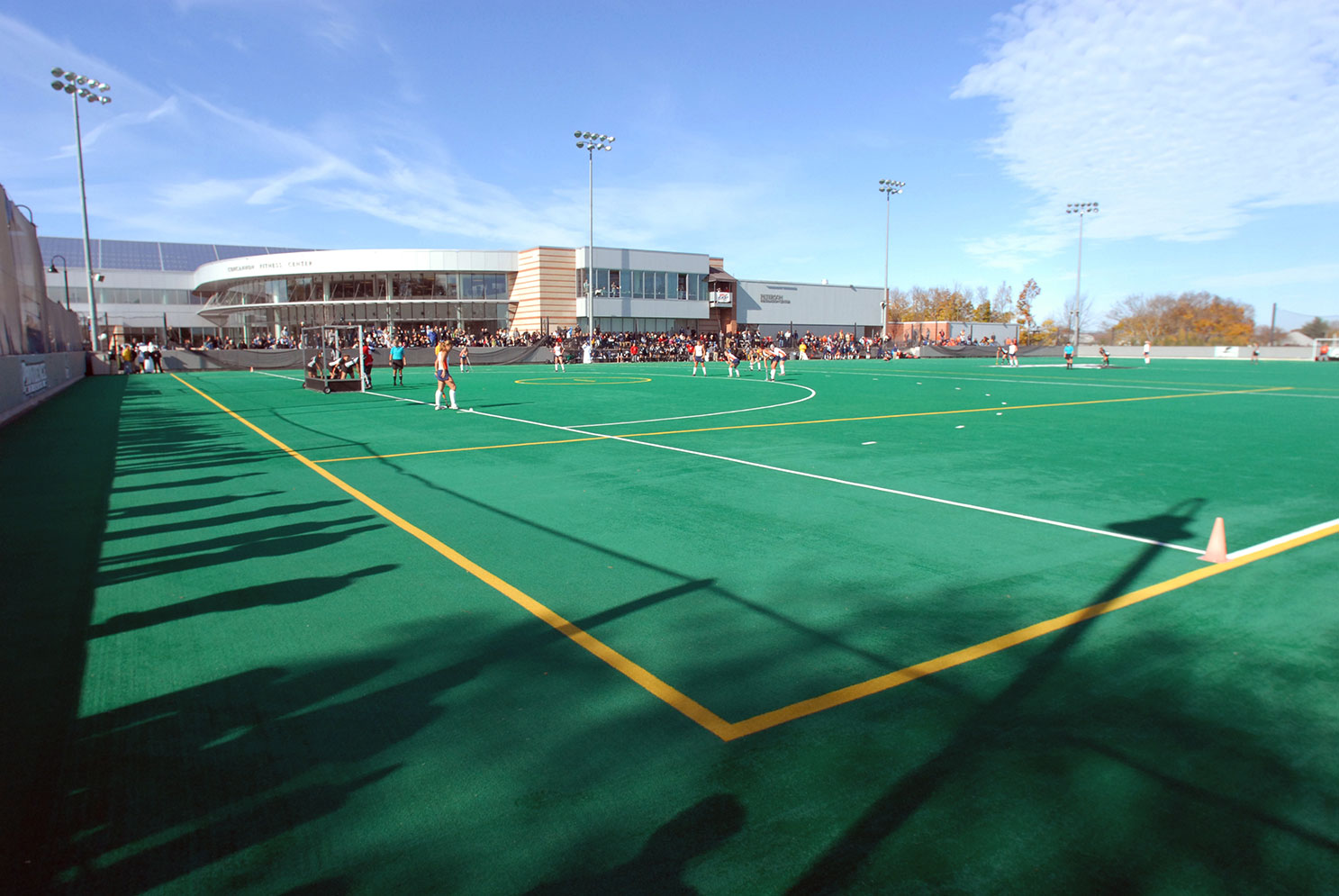 Providence has qualified for the four-team BIG EAST Championship in five of the last eight seasons under Madl's guidance. The Friars captured the BIG EAST Conference regular-season title in 2006 and advanced to the championship game of the conference tournament twice (2006, 2007).
During Madl's first three seasons on the sidelines, the team still played on a grass surface. During that initial stretch, the team posted a 26-33 record, while attempting to change the culture of the program under its new leadership. In 2005, Providence field hockey started a new era with the opening of the Lennon Family Field. The complex is a state-of-the-art Astroturf facility that has helped to springboard the program back on to the national scene.
The Friars' run of success began in 2006 in what is described as one of the most celebrated seasons in program history. The Friars posted an 18-4 overall record and captured the BIG EAST Conference Regular-Season title. Providence's 18 victories in 2006 are tied for second most all-time in program history, while the Friars' five league victories mark a program best. The program quickly found itself among the nation's best and was ranked in the NFHCA Division I National Coaches' Poll for nine-consecutive weeks, including seven-straight weeks in the top-15. At season's end, the Friars earned a final ranking of 11th. Madl was honored as the BIG EAST Conference Coach of the Year, Dita/NFHCA Division I Northeast Region Coach of the Year and Words Unlimited Coach of the Year.
Madl, a native of Mountaintop, Pa., was a three-sport stand-out in field hockey, basketball and softball at Crestwood High School. Upon completion of her high school career, she went on to play field hockey at UConn from 1985-88. While at UConn, she helped the Huskies capture the National Championship in 1985. She was a two-time All-America selection (1987, 1988) and earned the Honda Broderick Award upon the completion of her career, as the top collegiate field hockey player in the nation. Madl also earned Academic All-America honors and graduated magna cum laude, with a bachelor's degree in business administration in 1989.
Madl went on to play for the U.S. National Team and competed in a multitude of events for Team USA, including the World University Games (1989), World Cup (1990), Inter-Continental Cup (1989 and 1995) and the Champions Trophy (1995). She reached the pinnacle of her playing career in 1996 as a member of the U.S. National Team that competed in the Olympic Games, held in Atlanta, Georgia.
Madl was inducted into the Luzerne County (Pa.) Athletic Hall of Fame in 2005, and was inducted into the Pennsylvania State Athletic Hall of Fame on May 18, 2008. She is the daughter of Ruth Ann and David Madl.
Kiara Harris Amos '16
---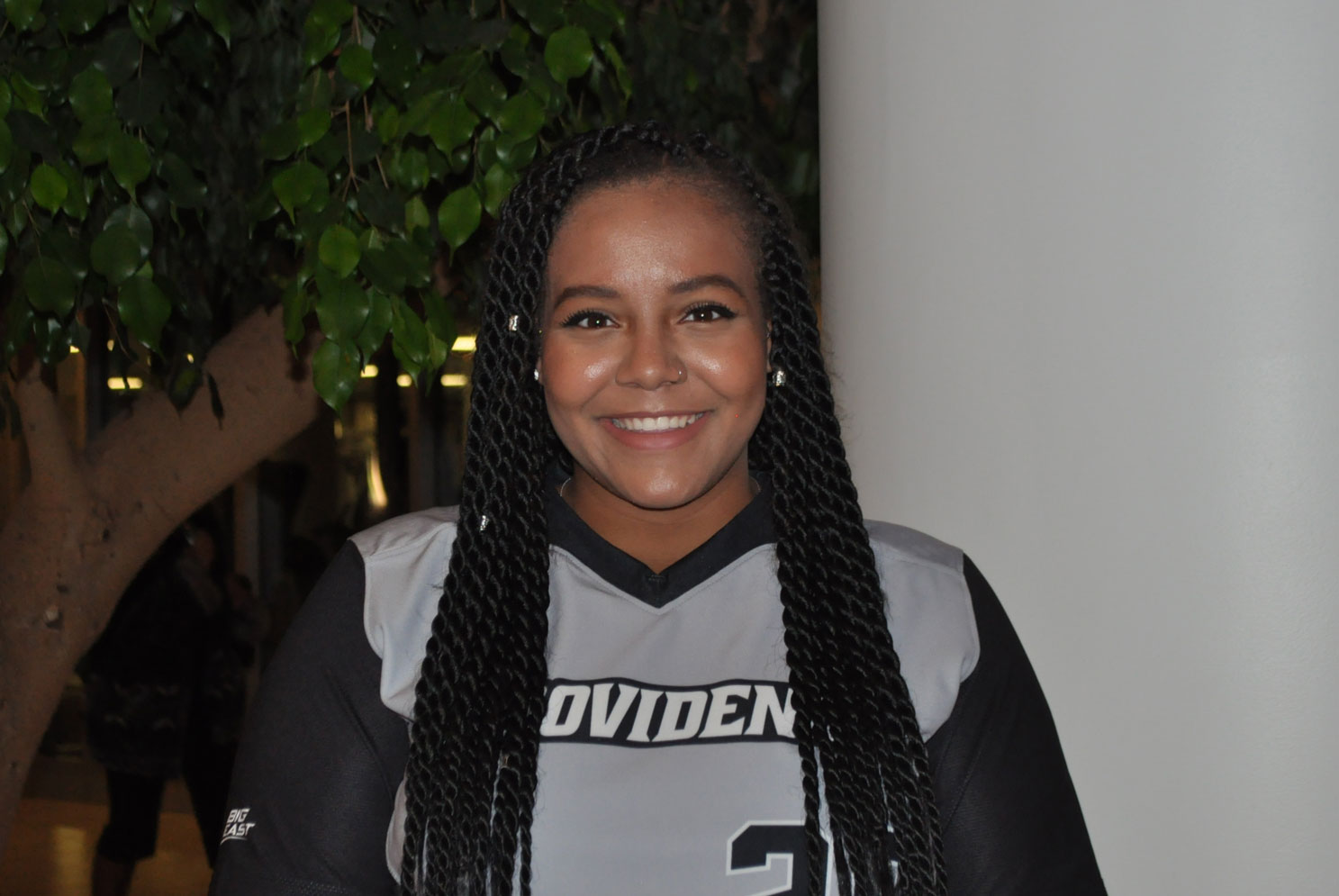 A tough softball player sees beyond simple failure and success. Kiara sees the reward of becoming a better player through rigor and small, consistent gains. Pitchers must perfect their technique to gain control over the speed and direction of their pitches.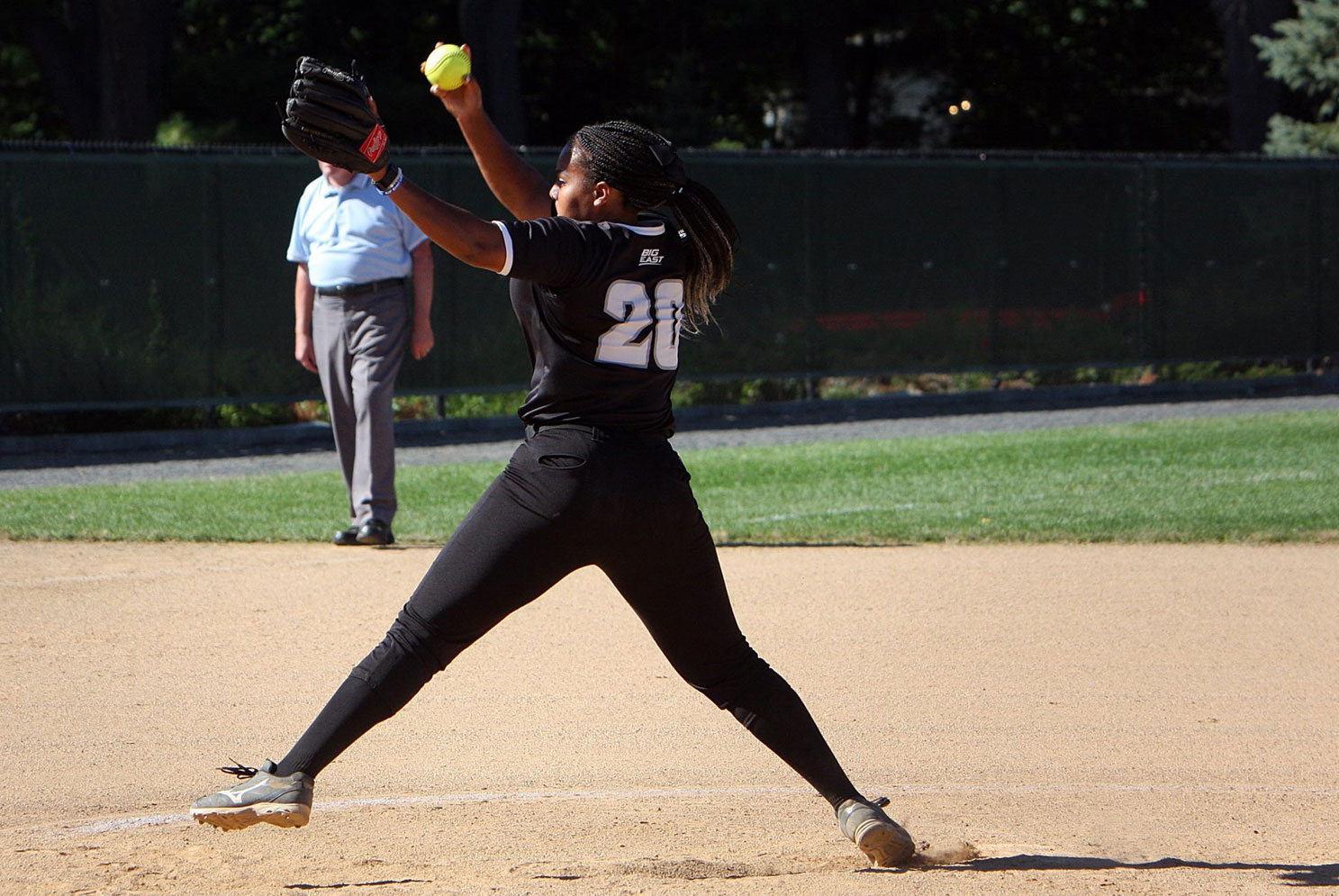 Kiara came to Providence College as a star pitcher from Malden, Mass. She was prepared, but soon realized that playing the game she loved at the Division I level would bring a new set of challenges.
At PC, she went head-to-head with the best players from other teams and became overwhelmed by the stress of athletic competition and academic demands. Kiara faced her fears and sought assistance from sports psychologist Dr. John P. Sullivan through PC's Peak Performance Program. Dr. Sullivan is an applied sports scientist/clinical sports psychologist. He helps PC's student-athletes work through issues related to performance and well-being. Dr. Sullivan and the Peak Performance Program are funded entirely by the Friars Forever Fund.
Kiara worked with Dr. Sullivan to learn breathing techniques that would help her relax and prepare for games and exams. She also learned to visualize her best performance and to pair those images with music. Kiara brought her headphones with her wherever the team played, and she practiced the performance visualizations in order to bring her best game to the field.​
As a first-year athlete, Kiara was also required to spend eight study hours per week in the Office of Academic Services (OAS), where she met weekly with Jonathan Gomes, associate director of tutor and disability services, to review her academic work. Gomes even went on the road with the team to proctor exams​ and provide aid in studying. Kiara found that she continued to use the breathing and relaxation skills that she learned with Dr. Sullivan to succeed academically. She made the Dean's List her junior year and finished in May with a GPA of 3.13.
Kiara also praised Dr. Sullivan's routines of stretching, ice baths, and rest, which benefited the entire softball team. She especially liked the heart-rate sensor that he employed, which allowed her and her teammates to see their resting heart rates and visualize how breathing, especially deep breathing, could help them to relax and perform better.
"It is an honor to work with so many talented members of the Providence College Athletic Department. Our student-athletes commit full-time to high performance in the classroom and in competition. Their commitment requires resourcing, and your support assists their journey to achieve excellence. I have been fortunate to work with athletes in my sport psychology role, and greatly value the support of PC alumni to allow sport science staff such as myself to support PC's student-athletes."
Dr. John P. Sullivan, Director of Sport Science and Sport Psychology
"Communication and the ability to work well with others have become personal strengths. I gained confidence in the way I play ball, in my studies, and in my interactions with people. There are so many opportunities at Providence College and people here really care about your future — helping you achieve your goals. I know that I will be prepared for anything life throws at me because of the lessons learned at PC. I want donors to the Friars Forever Fund to know how much I appreciate their generosity. I will be forever grateful — thank you!"​
Kiara is applying for a position in health care administration at Boston Children's Hospital. This summer she is the ball girl for the Pawtucket Red Sox, the minor league baseball team in Pawtucket, RI. ​She will also be coaching 14 year olds in softball on the weekends and traveling to their tournaments. She continues to be enormously grateful for all the opportunities her PC education provided.​​
Brendan Sullivan '16
---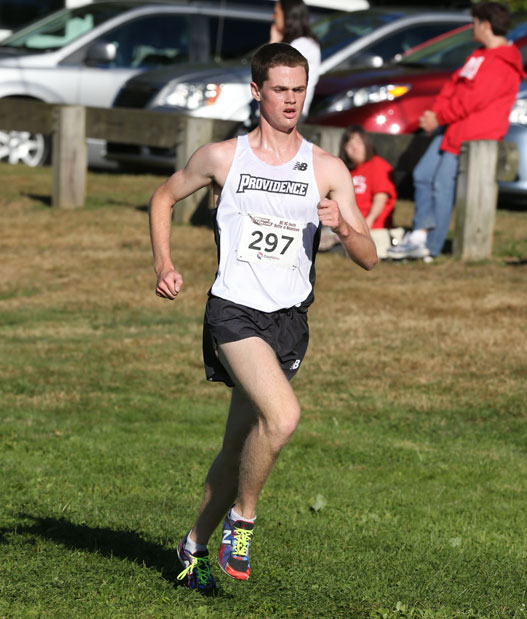 Runners compete in a sport where there are no timeouts, no halftime breaks, and no substitutions. The average healthy collegiate cross-country athlete logs anywhere from 70 to 100 miles a week in training. The mileage increases in the summer months, when building a strong aerobic base is the key to a successful season. Brendan Sullivan, who came to PC as a star runner from Foxboro, Mass., gave his sport total commitment as a cross-country and track runner.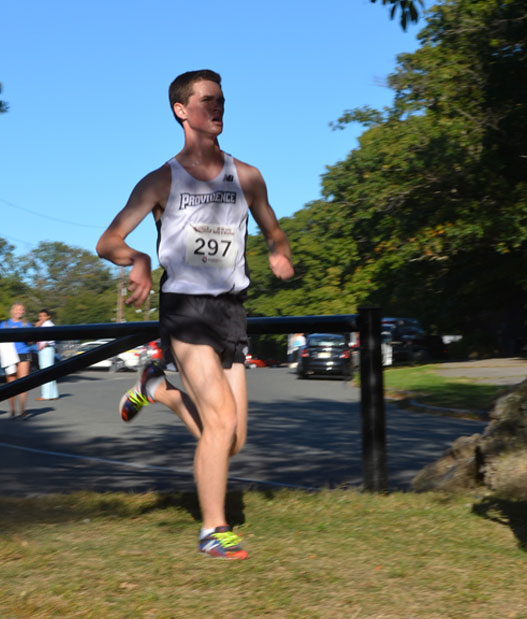 Going into his sophomore year, Brendan felt pain in his Achilles tendon, but like most determined athletes, he tried to run through it. As a result, Brendan developed advanced tendinitis, bone spurs, and the beginning of calcified growths. His running career was in jeopardy and the healing process would be long, including much-needed rest. Paradoxically, he needed to continue running to maintain and improve his talent.
That's where the Anti-Gravity treadmill — better known in the running world as the AlterG — came in. The AlterG helps athletes to recover from injury while they continue to train. Widely considered a "miracle machine" for athletes, the AlterG is completely funded by the Friars Forever Fund. The machine is so popular that it needs to be booked ahead of time. Resembling a bounce house for the lower body, the AlterG encases the user's hips and legs in an airtight plastic bag. The technology allows the athlete to create a sensation of near-weightlessness.
"The Alter-G treadmill has been a huge piece of our rehab protocol with any student-athlete with a lower extremity injury," said John Rock, associate athletic director in the Sports Medicine Office. "To have the ability to get someone back to running at less than full body weight is beneficial not only physically but psychologically. I'm not sure that the Alter-G decreases the amount of down time that a student-athlete has when injured, but it certainly allows them to be more prepared aerobically when they do return to their activity."
Thanks to the machine, Brendan was able to obtain the same cardiovascular benefit without further risk of injury, and was able to continue to compete throughout his sophomore year and beyond. "The Alter-G is one of the most important machines used by Providence Athletics. It helped me recover from my injury and return to competition in top aerobic condition," Brendan said.
"I want to tell Friars Forever Fund donors that you made a difference. On behalf of all student-athletes, thank you for your generosity. My team is one of the most important aspects of my life at Providence. We're a tight-knit group. We continually help each other out with studying and classwork. I've served as team representative on the Student Athlete Advisory Committee for four years and as president during my senior year. I coordinate the team's community service opportunities and keep the team up-to-date on all athletic department activities."
Brendan Sullivan '16
Brendan will study for his master's degree in education at Providence College with a focus in counseling and will work as a graduate assistant in the Sports Information Office. He has fifth-​year eligibility and will compete for Providence in the 2016–17 season. He also plans to volunteer as a team manager. Brendan remains grateful for his PC experience.​